Equal Exchange offers a variety of fair-trade goods with a mission to build long-term trade partnerships that are economically just and environmentally sound. They foster mutually beneficial relationships between farmers and consumers. Please consider supporting fair-trade chocolate, coffee, tea, and cocoa.
All proceeds will benefit Active Faith and the groups who feed our community.
Equal Exchange products are available for purchase after the 10:00 AM Sunday service at the church.
​
For questions about this program email SLFUMCMissionTeam@gmail.com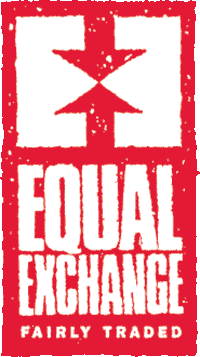 Organic Dark
Chocolate
Mint Crunch
(67% Cacao)
​
$5/bar
Organic
Chocolate w/ Coconut Milk
(55% Cacao)
​
$5/bar
Organic
Milk
Chocolate
(43% Cacao)
​
$5/bar
K-Cup Coffee
Organic Breakfast Blend
12 cups/box
​
$10/box
K-Cup Coffee
Organic Unwind Decaf
12 cups/box
​
$10/box
Ground Coffee
Cozy Cup Decaf
12 oz bag
​
$14/bag
Ground Coffee
Organic Mind, Body & Soul
12 oz bag
​
$14/bag
Ground Coffee
Organic Breakfast Blend
12 oz bag
​
$14/bag
Whole Bean Coffee
Organic Columbian
12 oz bag
​
$14/bag
Whole Bean Coffee
Organic Decaf
12 oz bag
​
$14/bag
Whole Bean Coffee
Organic Love Buzz
12 oz bag
​
$14/bag
Organic Hot Cocoa Mix
12 oz can
​
$8/can
Organic Black Tea
20 bags/box
​
$6/box
Organic Earl Gray Tea
20 bags/box
​
$6/box
Organic English
Breakfast Tea
20 bags/box
​
$6/box
Organic Green Tea
w/ Ginger
20 bags/box
​
$6/box